A bright side of my living on the Autism Spectrum is some of my obsessions provide magic in my everyday life living on the Spectrum.
My obsessions usually start when I try something new. If I like it, I'll go overboard. That's how come, for instance, I have three computers, three TVs, three Echo devices, three Google Home devices, and several boxes of my favorite snack bars.
This obsession started with an eye-popping ad on FACEBOOK of a cute Alaskan Husky black/white stuffed puppy. If it had just been stuffed and cute, I wouldn't have been enticed at all. It fit my tech/gadget/toy obsession because it does run on batteries. The dog is advertised for the ages of 3+ … so I easily qualified at 62. It attracted me because it looks like a dog, walks like a dog, and woofs like a dog.
I am a dog-sitter for my brother and sister-in-law. One reason I like dog-sitting is I am a long-time dog fan. Another is they live in a secluded area in the country where I can roam without people around. I'd have a dog myself but I live with my Mom who has the deed to the house. She might allow me to remain under her roof and even with a dog if I brought home one, but I don't want to put that to the test.
It took a little over a month for my Alaskan Husky to arrive since its birthplace was China. I gave him the name "George". When I turn George's button on underneath his belly, he can walk on his own, wag his tail, and bark. George isn't the same as a real dog. I didn't buy George expecting all the things a live dog provides. I receive that when I dog sit my Bailey and Luna ever two or three months.
George is a good match for me and my Autism. He doesn't interrupt my routine such as getting up at sunrise to take the dogs out to conduct his/her business as I have to do when I dog-sit. I don't have to make appointments to see a vet which is a positive for me since I hate appointments. Also, George's diet fits my tightwad-budget since he fasts around the clock and never gets thirsty. His barking doesn't impact my sound sensitivity since he comes with a turn on/off button.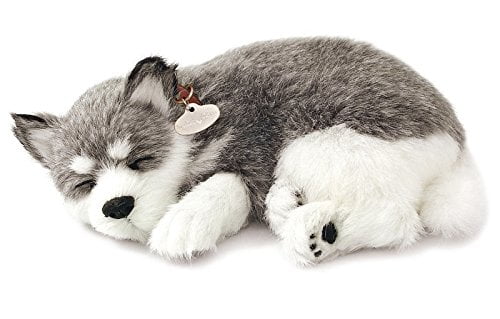 Again, when I like something, I go overboard! Shortly after George arrived, he got a playmate. It didn't come all the way from China like George. It is from a company called "Joy For All". These dogs are popular with senior citizens. I think it makes a good companion for those who are sensitive to the smell or touch of dog poop.
I named my dog "Bear Two" since he reminds me of my grandniece's dog Bear who I have sat with too. George can walk and bark, but that's it! Bear Two can't walk, but he can move his head and bark. He has sensors at certain parts of his body that will activate him to turn and woof. Bear Two is bigger than George and so he's more of an adult dog; whereas, George is a puppy that sits rather nicely on top of one of my three computer monitors.
George and Bear Two are a bit different from robotic dogs. They don't look like robots; they look like … well…dogs.
Sometimes there are moments when living on the Spectrum is hard. I can't make those moments disappear, but I can weather through them in various ways. Such as turning on my plush pups, watching them play, or just holding them tight until the storm passes.