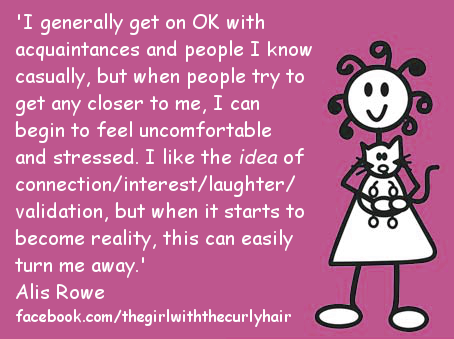 WARNING:  Don't get too close to me!
If there are words to explain how Autism Spectrum Disorder (ASD) affects my communicating with my fellow man, I don't know them. It's a mystery to me and I can only hold up my hands and say to myself, "it is what it is". I relate to the above posting by Alis Rowe, author of "The Girl with the Curly Hair – Asperger's and Me".
I have a friend who knows more about me than those who've known me for most of my 61 years of living. The odd thing is we have never met in person. Our friendship is proof that one-on-one contact isn't required.  An exchange of on-line messaging has been sufficient.  It works well for me since writing is my passion and social interaction is not!
My friend, who is long-distance, gets an e-mail update on "what's going on with me" every Sunday without fail.  I do mean every Sunday; not Monday, or any other day of the week.  It is the "routine" thing that's a common ASD trait.   If she didn't get a message from me on Sunday, she'd know that I must be in utter misery on my backside or in a coma.  
Once upon a time, my friend and her best friend were on vacation and within driving distance.  She messaged me and invited me for dinner at a restaurant about halfway between my house and her hotel.  One would think I would want to lay eyes on someone who knew me better than most.  But instead of excitement, I felt utter panic.  It was as if she issued a threat instead of an invitation.  It was unexpected and threw me for a loop.  I racked my brain and came up with an excuse which is typically the way I respond to invitations. 
Why I didn't just do it?  As I stated earlier, "it is what it is."
I admit I don't make a good friend in person.  I'm not a good choice to chat with, dine with, or take in a movie with.  But I make a good casual friend and cater to having relationships of those whom I am fairly sure won't invite me over for whatever.  Most especially, the few in my life who get updates from me on a routine basis and above all, want them.